JamPlay Review
How JamPlay ranks first in the top of the best online guitar lessons

BY JAMES DELANEY
31 JANUARY 2022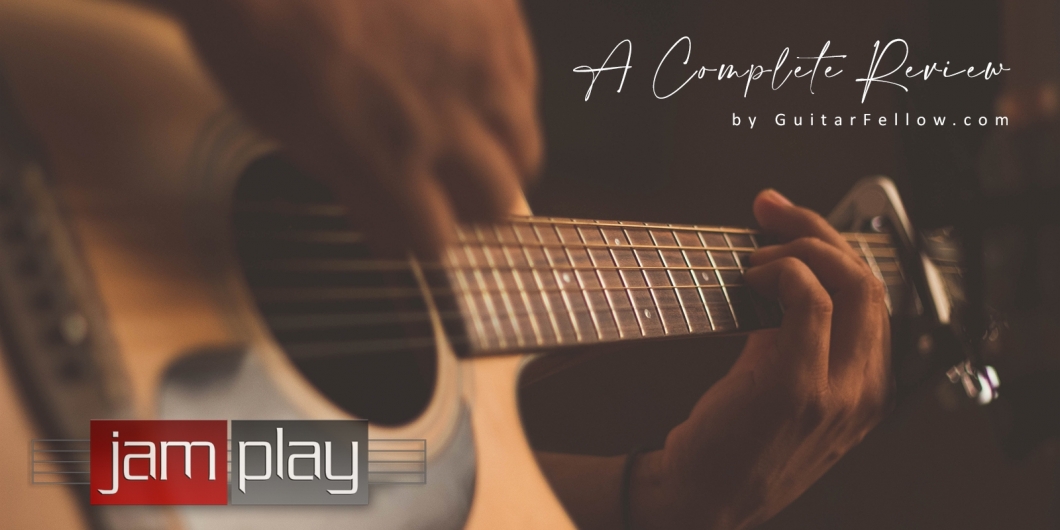 Table of Contents
[Show]
Jam Play Overview
After presenting a short review of JamPlay, it's time to go into detail and give you a comprehensive presentation of the number 1 in our ranking of online guitar lessons platforms.
Founded in 2006 by three young guitar enthusiasts (Jeff Booth, Chris Dawson, Kevin Wimer), JamPlay soon became one of the most important players on the online guitar lessons market. Over time, the quality of the lessons, the constant updates and the experience and value of the instructors propelled JamPlay to the first place in the preferences of students from all over the world who wanted to learn to play the guitar.
JamPlay in numbers: A catalog of 7,400+ guitar lessons, grouped in over 600 courses, more than 360 songs tutorials, all taught by 140 instructors, covering a wide range of guitar styles: Blues, Rock, Jazz, Country, Metal, Classical, Bluegrass, Flamenco, R&B, etc.
As with the other reviews, our JamPlay review is also based on the feedback provided by two guitarists, one an absolute beginner (Gavin Young - the emerging guitarist) and the other an intermediate guitar player (Lucas Mills), so we managed to present you a lot of things on which you need to know if you want to start an online guitar course. Both tested the JamPlay platform for about 4 months, during which time they discovered in detail what JamPlay offers for both beginners and intermediate/advanced players.
The JamPlay has an modern clean interface, that create a beautiful look and feel. The simple and intuitive design is very helpful considering that JamPlay provides a huge amount of learning materials and tools.
The first section is entitled "My JamPlay" and consists of personal things (Progress Report, My JamPoints & Badges, My Profile). Then we dive into the main attraction, Lessons (which we'll talk about in more detail later). Then you have "Live" section, where live courses are displayed, as well as those that have already been, in the form of an archive. The main menu continues with the tools section provided, then with "Community", where you can get in touch with the other members of the JamPlay community (students, teachers, staff).
Skip the line & check now JamPlay guitar lessons
Jam Play Exclusive Stuff - The Downloadable Toolkits
A special feature of JamPlay, which does not exist in other online courses, are the downloadable Toolkits. With the Standard annual subscription you can choose a Toolkit of your choice, and with the Pro annual subscription you get all the Toolkits available that year.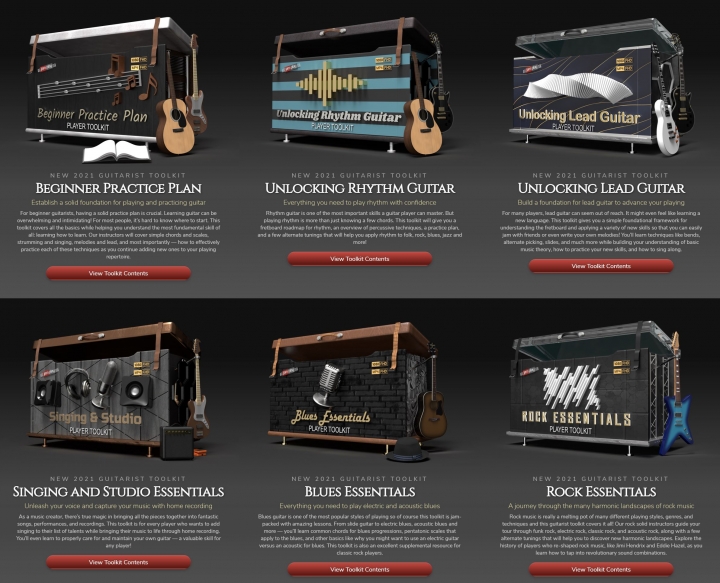 The available JamPlay Toolkits in 2021 are:
‣ Beginner Practice Plan
‣ Unlocking Rhythm Guitar
‣ Unlocking Lead Guitar
‣ Singing and Studio Essentials
‣ Blues Essentials
‣ Rock Essentials
‣ Country Essentials
‣ Fingerstyle and Folk
‣ Bass Essentials
We will talk about these Toolkits in detail later, in the Special Features section.
JamPlay Courses Structure
The main JamPlay courses are grouped in the "Lessons" section and consist of 4 learning phases (Beginners, Genres & Skills, Songs, Songwriting), after which the other categories are displayed (Artist Series, Licks & Riff Library, Performances, Interviews and Concerts).
A positive and specific point of JamPlay is that each Phase has a link through which you can sign up to be notified every time new lessons are added.
1. Phase 1 (Beginners)
This section is responsible for learning the basic techniques of playing the guitar. It is divided into two independent parts, the first part being dedicated to acoustic guitar, and the other to electric guitar. For the acoustic guitar there are 14 courses (between 10 and 59 lessons each), each with its teacher, and for the electric guitar 13 courses. All courses are quite similar, only the teaching style and method of each instructor differ, so you will have to browse through several courses to see which instructor you enjoy the most.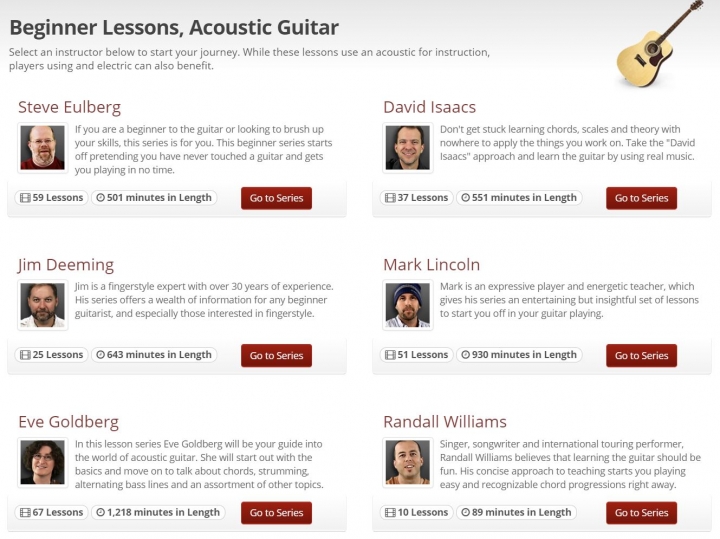 2. Phase 2 (Genres & Skills)
This is the section for those who have gone through Phase 1 for beginners and want to continue, extending the concepts and techniques of guitar playing learned so far. As the name suggests, Phase 2 focuses on learning various musical genres and developing guitar skills.
JamPlay offers lessons for the vast majority of musical genres, here being represented, in addition to the great musical genres such as blues, rock, metal, country, jazz or classical, even less extensive genres like flamenco, surfing, celtic or hawaiian style.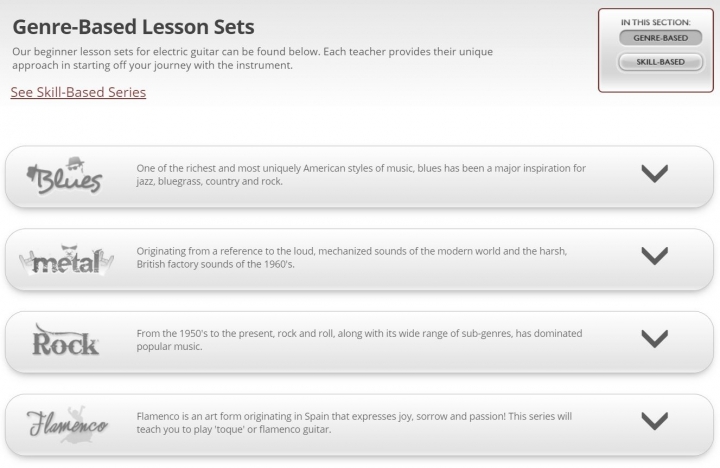 Going to skill building lessons sets, on JamPlay you will find a wide range of guitar techniques that you can perfect: speed and technique, rhythm training, lead concepts and techniques, improvisation. We also have a set of lessons & tips for hammer ons, pull offs, rakes or harmonics.
Well represented are the conceptual skill building courses, which you may need when playing guitar (singing along with guitar - a skill needed especially for rhythm guitarists, reading music and rhythm, music theory, a series dedicated to 12-string guitar and you can even learn how to identify chords, their quality and interval distances through the Ear Traning lesson set).
3. Phase 3 (Songs)
After going through Phases 1 and 2, in which you learned the basics of guitar singing and then developed more complex guitar techniques, you're ready to rock'n'roll! You can also, if you are an intermediate player, skip the previous Phases and go straight to learning your favorite songs.
There are 360+ songs tutorials, very well documented, most of them belong to the rock and metal genres, but the blues, country or pop genres are also quite well represented.
Although it does not have a huge library, like Guitar Tricks, there are still many well-known artists, such as: Alan Jackson, Billy Idol, Blue Oyster Cult, Disturbed, Goo Goo Dolls, GWAR, Jim Deeming, Judas Priest, Machine Head, Megadeth, Orville Johnson, Pantera, Staind, Steve Eulberg, The Beatles or ZZ Top.
The method of teaching guitar song tutorials is a complete one, for each song the instructor helping you to play the guitar properly, but also explaining the necessary music theory and what you will need to evolve and succeed in playing more complex songs.
4. Phase 4 (Songwriting)
The apex of the guitar lessons from JamPlay is represented by the fourth section, where, once you have gone through the previous phases and learned the basics of the instrument, built the skills and learned some favorite songs, you're led to a new challenge: to try to write your own music. This can be the most enjoyable, yet the most challenging part of your musical journey at JamPlay.
These lessons are very useful for your musical development, because learning to write your own songs is a very important part of being a musician and will definitely take you to the next level.
Beyond the first 4 Phases
After a long (and hopefully pleasant) journey, where you learned basic guitar techniques and music theory, then developed your skills and brought them to a high level, JamPlay does not stop here, but continues with an entire system designed to helps you become a master of guitar (Artist Series, Lick & Riff Library), as well as three other chapters with independent lessons, which will help you get to know the artists better (Song Performances, Interviews and Concerts).
The "Artist Series" chapter is divided in two sections, "Artists" and "In the Style of", a complex approach to learning the styles of well-known artists from two perspectives, presented below by our two test guitarists:
"Artists" section is super cool, because here you can learn tips & tricks, a new and fresh approach to music, as well as advanced and special guitar techniques from some of the greatest guitarists in the music industry. (Lucas Mills - the intermediate player)
My favorite section of the entire Jam Play learning structure is the "In the Syle of" lessons, where members of the Jam Play staff teach you specific styles of legendary artists (Jimi Hendrix, Carlos Santana, Steve Vai, Joe Satriani, Eric Clapton, B.B. King or Van Halen). (Gavin Young - the beginner)
JamPlay Exclusive - Live Courses
The live sessions presented here are another great source to find solutions to the problems experienced during the guitar learning process, as if you were taking lessons with a private instructor, because these live webcam sessions are most often based on "open discussions", meaning you can get answers to questions about difficult topics encountered while learning guitar.

I received many answers to my questions and I got out of trouble many times with these live sessions, it was like if I had a real teacher in front of me. (Gavin Young)
JamPlay Free Trial - Try before you buy
JamPlay for Beginners
There is a big difference between what JamPlay teaches for beginners and Guitar Tricks. Although Guitar Tricks is recognized for the Core Learning System, specially designed for beginner guitarists, our opinion is that the system used by Jam Play for beginners is more complete.
Why do we believe that Jam Play is the best program for beginners? Because there are at least 5 instructors (out of a total of 13 who have beginner courses) who present a complete course for beginners, break down each topic and explain it clearly and understandably to everyone, and each of them have different teaching styles so it's easier to find someone who fits you best. Below is an indicative list of the programs that we found most complete and easy to follow:
• Steve Eulberg (59 lessons, 501 minutes in length)
• Jessica Baron (66 lessons, 883 minutes in length)
• David Isaacs (37 lessons, 551 minutes in length)
• Mark Lincoln (51 lessons, 930 minutes in length)
• Eve Goldberg (67 lessons, 1,218 minutes in length)
Also, JamPlay have two more specific courses for beginners: Jim Deeming - fingerstyle expert (25 lessons, 643 minutes in length) and even a course "Just for Kids", taught by Steve Eulberg (42 lessons, 402 minutes in length).
For a beginner, learning guitar can be overwhelming and daunting, so having a strong practice plan is essential. Test more instructors before choosing one.
We have some favorite electric guitar instructors tot, but this list is also for your guidance, it would be better to test yourself a few of them to see which one suits you best:
• Mark Brennan - 45 years of playing experience, with a classical and rock'n'roll background (29 lessons, 809 minutes in length)
• David Isaacs - teaching you basic rhytm guitar in four distinct courses, each of them with 25 lessons
• David MacKenzie - focuses on classic rock (41 lessons, 556 minutes in length)
JamPlay for Intermediate and Advanced Players
JamPlay is the standout winner of the intermediate and advanced guitar lessons category. Although many people who access online guitar lessons are beginners or at most intermediate guitar players, Jam Play advanced courses offer outstanding content that has a great value even for guitar players who already play on stage and are early in their careers.
For intermediate and advanced guitar players there is a whole range of courses, which are divided into two major sections: Genre-Based and Skill Building.
A. Genre-Based Lessons Sets
At the beginning, we will focus on the genre-based section, where you will have access to no less than 21 musical genres, each taught by several teachers, so that you will benefit from different teaching methods for each musical genre.
Here you will learn complex harmony structures, catchy melody that outlines the strongest notes in a basic chord progression, subtle phrasing nuances, precision alternate picking, rapid position shifts and other subtle techniques you need to define your own style in a certain musical genre.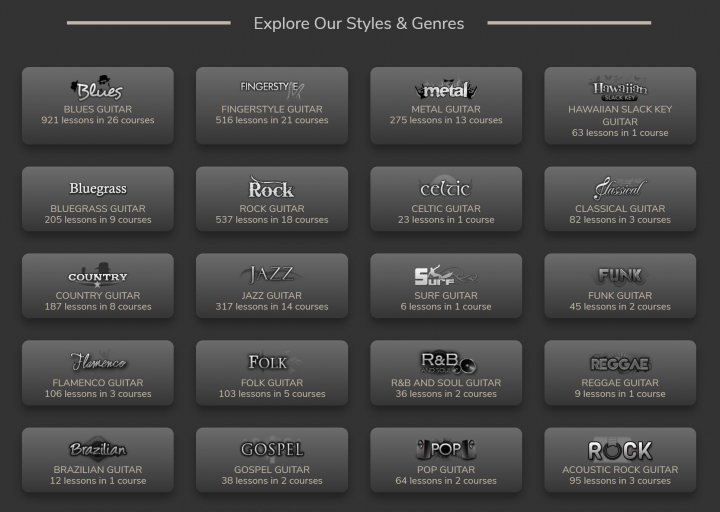 The best represented genre is Blues (with 22 courses, totaling over 2,500 hours), followed by Rock (17), Jazz (14) and Metal (with 12 courses). Below we present the complete list of musical genres that you can learn and learn more at JamPlay:
• Blues (with courses like: Electric Blues; Slide Guitar; Intros, Outros and Turnarounds; Fingerstyle Blues; Rockabilly Blues and more)
• Metal (based on Artist Series courses taught by musicians like Tony MacAlpine, Andy James, Tosin Abasi, Bumblefoot, Steve Smyth and many others)
• Rock (Savage Rock Licks, The 15 Rules of Rock, Secrets of Melodic Rock, Rockin' Rhytm Guitar, etc.)
• Flamenco (with Marcelo Berestovoy, Mario DaSilva and Miche Fambro)
• Folk
• Pop
• Acoustic Rock
• Fingerstyle - that allows guitarists to combine melody, bass lines, and harmony to create a complete, orchestral sound
• Hawaiian
• Bluegrass (Fiddle Tunes, Flatpicking Licks)
• Celtic
• Classical Music
• Country (Modern Telecaster Shred, Classic Country Licks or Nashville-Style)
• Jazz (Chord Progression Practice Plan, Wester Swing, Gypsy Jazz, Smooth Jazz, Mini Arpegios, Walking Bass Lines and so on)
• Surf Rock
• Funk Guitar
• R&B
• Reggae
• Brazilian
• Gospel
• Jam Bands
B. Skill Building
Looking to learn more advanced techniques or build a special skill? Immerse yourself in skill-based Jam Play classes to focus on a skill, technique or music theory application.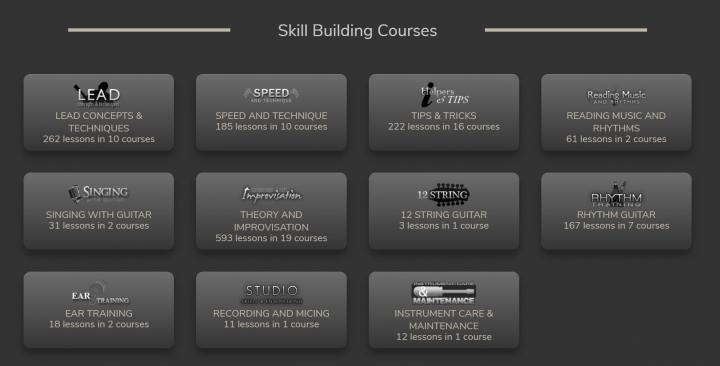 You can develop your technique in speed, you can learn how to add your own touch in your play, by learning tips & tricks about various techniques, such as hammer-ons, pull offs, rakes and harmonics. Then you can learn, or, as the case may be, deepen, how to play along with the guitar, to add depth to your playing.
I was able to develop my rhythm playing ability by improving my rhythmic syncronicity, versatility in playing guitar and by learning "30 Rhythm Guitar Grooves You Must Know". (Lucas Mills)
If you want to expand your range of skills, here you can learn lead guitar playing (unlike rhythm guitarist, which focuses on the rhythmic structure of the song and accompaniment, lead guitarist focuses on guitar solos and melodic lines).
Another interesting series is the one in which you learn theory and improvisation, by building colorful chords, maximizing the 12 notes, having a creative control or learning how to master the art of the drop-2 voicings.
The bottom line is that, after learning guitar fundamentals, you want to continue to evolve and become a better guitarist, this chapter gives you everything you need to reach a higher level of guitar playing.
Learning Songs
Phase 3 of the JamPlay is designed to take your guitar skills and musical knowledge to a new level, teaching you songs and understanding the logic behind them. Here you'll learn to apply what you've learned so far to actual songs. They propose over 400 video tutorials, most of them covering specific parts of songs (main riffs, solos, intros, and outros), so you can learn how to play songs from your favorite artists.
Tutorials are sorted by genre (Blues, Bluegrass, Rock, Metal, Country, etc.) and by difficulty level (on a scale from 1 to 5), so whether you're just a beginner or an established player looking for new challenges, there is something here for everyone.
With high-definition video and photo illustrations, JamPlay aims to keep you engaged and excited about playing guitar, help you learn the songs you want to play, and ultimately make you a better player overall. The key concepts are the same ones that are used in most guitar teaching: sound, strumming patterns, rhythm, scales, and chords. Each song provides a chord progression table that shows the key signature and the chords used in the riff or solo.
Whether you're new to guitar or you've been playing since you were little, I think that JamPlay can help you learn songs much faster than you might think possible. (Lucas Mills - the intermediate player)
Songwriting
While a lot of people focus on learning songs and techniques, sometimes it's just as important to be able to come up with your own original material. In these lessons, you will learn how to write your own music. Many of today's most famous musicians got their start by learning how to play popular songs by ear, but they eventually transitioned into composing their own music.
If you're new to songwriting, or just getting started, it can be difficult and confusing to figure out where to start. The acoustic and electric guitar lessons from Jam Play are designed to help you develop your skills and write songs in any genre of music.
JamPlay offers a unique experience, with a focus on what they do best. Their songwriting course is one of the best guitar course changes out there, and it comes in with a lower price point. If you're trying to master your own creations, this could be the best option for you.
JamPlay's lessons will help you build your songwriting skills while learning some killer licks and riffs along the way!
Live courses & Q&A sessions
There's another huge advantage to Jamplay that separates it from all other online guitar lessons. What makes Jamplay unique is the live video tutoring, which is available for all students at all levels. This feature is the number one reason why most people decide to sign up. The knowledge that you have direct access to your guitar teacher whenever you need it is a very powerful motivator.
This type of interaction makes the learning process more exciting and interesting, and it's something that other programs do not offer at all. Students who take private lessons in person will often tell you how much they miss this kind of interaction when they go back to class after summer vacation. With JamPlay, you can get that same feeling any day of the week!
There's no limit on the number of live courses you can participate in, and the range in difficulty is wide enough that even if you're not sure what your level is, you can choose courses suited to you.
Every day there are two video guitar lessons and a live Q&A with the instructor. The instructors at JamPlay are very friendly and knowledgeable, they know how to work with a crowd of people. It's a great community to learn from and there is no better way to get feedback on your playing.
A live course is run by an instructor who gives live advice to attendees. In addition to getting advice from the instructor during the course, you can also ask questions on the forum associated with that course between sessions. All live courses are also recorded so that you can watch them on your own schedule (there's no charge if you do so after the live session is over).
Students can ask the instructors any question about the course material or their playing in general. It's just like having your own personal tutor 24/7!
The daily Q&A sessions are also an essential part of the JamPlay experience and are pretty awesome too. These sessions are where teachers and students come together to discuss any topics related to learning guitar, providing feedback and answers for everyone else's questions and concerns. The instructors online daily and can ask them questions directly as well as talk about anything else related to guitar playing. This helps you develop a personal connection with your teacher, which leads to better results overall.
Jam Play Resources
Jamplay has all of the resources you need to become a better guitarist/musician. They have an entire chord library, scale library, jam tracks, chord finder, and a metronome to help you learn how to play and fully understand music theory. JamPlay also offers a variety of tools to help you create your own chord charts, backing tracks, and much more. There are literally hundreds of different resources:
• The Chord Library is useful when learning how to play particular chord progressions. The search feature makes it easy to find the chord you need quickly;
• The Scale Library - you can find the scale that fits the key of your song or riff by searching through the scale library;
• Jam Play has a ton of Jam Tracks that are great for improvising over;
• The Chord Finder will help you figure out which chords go well together and will recommend the best songs for practicing those chords;
• The Metronome is an invaluable tool for ensuring that your playing stays on time. It comes in handy when practicing chords and scales, or when working on difficult passages in your favorite songs and solos;
• The Guitar Tuner is a must-have if you want to keep your guitars in top condition.
It's like having a guitar teacher in your pocket! Whether you're looking for a way to learn or a way to practice, JamPlay is the ultimate guitar learning tool.
Conclusion
JamPlay is a breath of fresh air in the field, offering quality content and expert instructors who can impart their years of knowledge to your fingers.
They offer a complete package for guitarists and aspiring guitarists alike. Its training videos are top-notch and it provides quality guitar lessons at the beginner through advanced levels. Lessons are well organized on the website and go into detail about song structure and jam tracks to play over. Jamplay is best for intermediate and advanced players who want to take their guitar playing to the next level. It's also great for beginner guitarists, as it has tons of lessons suited to any experience level.
If you're looking for some in-depth, high-quality instruction and a jamming community, then JamPlay is simply the best guitar lessons platform you can use, and it's worth every penny.
Start your adventure with JamPlay guitar lessons
Alternatives to JamPlay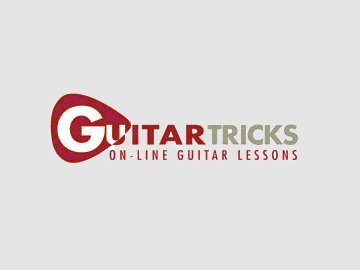 1. GuitarTricks
Online guitar lessons offered by Guitar Tricks are a great alternative to Jam Play. It provides an individualized experience, much like it would be if you were being taught in person. The lessons are presented in a logical, easy-to-learn manner that fosters solid musical fundamentals. The GuitarTricks catalog is continuously growing, providing an immense variety of lessons for guitarists of all ages and skill levels.
So, you're curious about GuitarTricks? Want to know more? We made a comprehensive review for you -
Guitar Tricks Review
- in order to give you a good idea of the pros and cons of the course.
Check now GuitarTricks