Guitar Tricks Review
Everything you need to know about Guitar Tricks. A systematized and complete Guitar Tricks review.

BY JAMES DELANEY
31 JANUARY 2022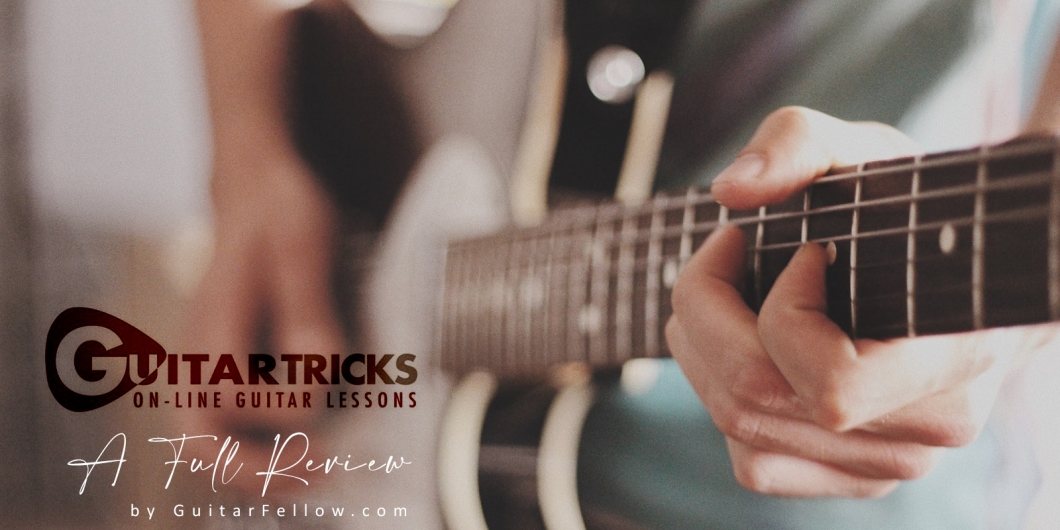 Table of Contents
[Show]
Guitar Tricks Overview
Founded in 1998, Guitar Tricks is the oldest and one of the most popular guitar lessons sites. Today, it ranks second in the top of the best online guitar lessons and below, in the full review website, you'll receive the data you need to make an up-to-date and knowledgeable decision.
Our Guitar Tricks review is based on the personal experience of two guitar enthusiasts (Alan Sanders, an intermediate guitar player and Kevin Williams, the beginner), who went through all the Guitar Tricks courses (almost 6 months of daily practice) to give you a complete picture of this platform. We guarantee in this way that we have covered with this Guitar Tricks review all the aspects that you should know, both from the point of view of an absolute beginner and from the point of view of an intermediate guitar player.
After logging on to Guitar Tricks you will discover a modern and neat interface, with a design that efficiently displays all the important modules for learning guitar and sections of the site - a professional site that does meet all the expectations.
Guitar Tricks is quite intuitive, well organized (with a notable exception, which we will present a little later, in the "Courses Structure" section), easy to navigate and offers a multitude of options for both beginner guitarists and (to a lesser extent) intermediate and advanced guitarists.
Most of the lessons belong to the Core Learning System beginner module, which can be continued, one at a time or simultaneously, with the other modules for those who have learned guitar techniques: Experienced Lessons, Learn to Play Songs and Learn Styles of Guitar.
Now it's time to move on and get into the details with the Guitar Tricks review.
Skip the line and explore GuitarTricks now
Guitar Tricks Courses Structure
The structure of Guitar Tricks courses is simple and predictable, at least for the most part. We say this because there are some parts that will mislead you, at least at the beginning of the lessons. So let's get started. Guitar Tricks have four major modules, Beginner Lessons, Experienced Lessons, Learn to Play Songs and Learn Styles of Guitar.
1. Guitar Tricks Beginner Lessons
After entering this module, we will discover here the super-acclaimed Core Learning System. It is indeed dedicated to beginners, but, as we will see later, it also deals with intermediate and advanced guitarists, who have managed to pass the courses dedicated to beginners.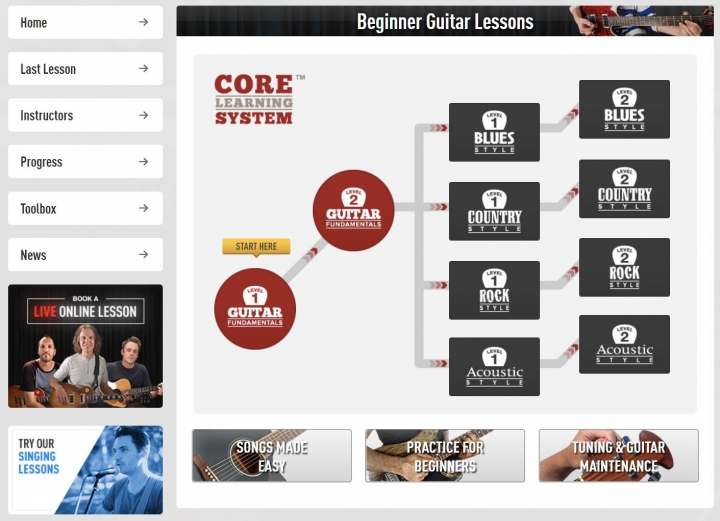 So, for beginners we have two chapters (the ones marked in red in the picture above):
1. Guitar Fundamentals Level 1;
2. Guitar Fundamentals Level 2.
We also have 3 sections at the bottom:
a) Songs Made Easy (which includes songs easy to play on the guitar, with a degree of difficulty 1/5 and 2/5, from the styles of Acoustic, Country, Rock and Blues);
b) Practice for Beginners;
c) Tuning & Guitar Maintenance.
These are not full courses, but are topical lessons dedicated to beginner students. Although some of the lessons here also appear in the Core Learning System, they are sorted so that you can quickly access the most popular topics for beginners.
Warning: although the Core Learning System seems to include 10 chapters for beginners, the ones dedicated to them are only the first two, the next ones being dedicated to intermediate and advanced guitarists. So, we can leave aside the other 8 courses and move on to the next module (you will see immediately why).
2. Guitar Tricks Experienced Lessons
Once you enter the module for experienced guitarists, we see that it has the same Core Learning System, with the same chapters, which lead to the same pages as those in the beginner module, but with inverted colors (the two for beginners are now black, and the others in red).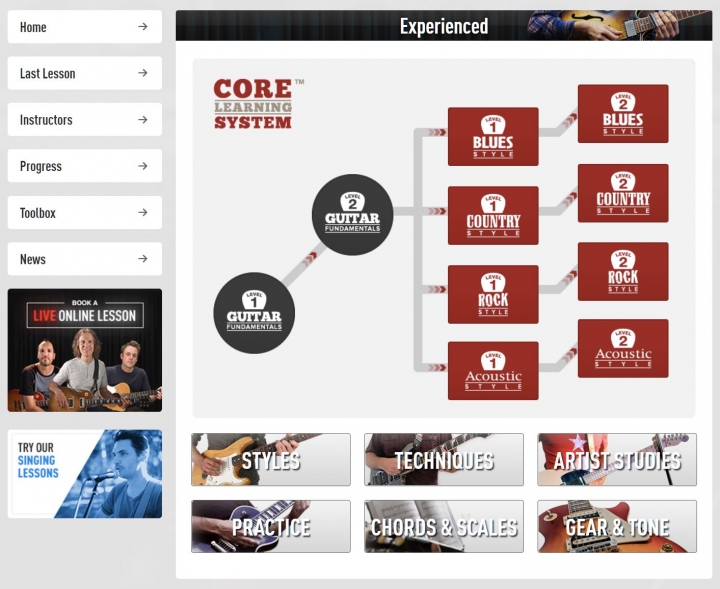 Well, here we will have to abstract from Guitar Fundamentals 1 and 2 (of course, if we went through them learning to play the guitar in the beginner module or if we are intermediate / advanced guitarists), so we will have 8 chapters :
1. Blues Style Level 1;
2. Blues Style Level 2;
3. Country Style Level 1;
4. Country Style Level 2;
5. Rock Style Level 1;
6. Rock Style Level 2;
7. Acoustic Style Level 1;
8. Acoustic Style Level 2.
We also have 6 additional sections, this time different from the module with guitar lessons for beginners:
a) Styles
b) Techniques
c) Artist Studies (a very interesting and at the same time unique feature among online guitar lessons sites)
d) Practice
e) Chords & Scales
f) Gear & Tone
3. Learn to Play Songs
This third great module is perhaps the most anticipated among those who want to learn to play the guitar, as it contains an impressive library of songs (by far the largest of all guitar learning platforms). These are categorized as follows:
- on musical styles;
- on difficulty levels (on a scale from 1 to 5);
- by Guitar Tricks instructor;
- by artist.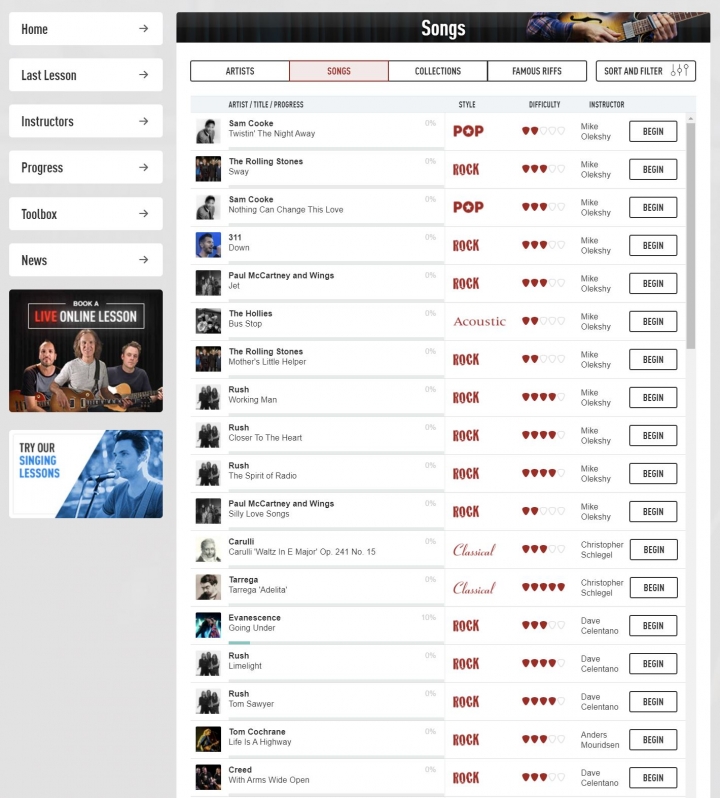 We also have two very interesting, unique and useful categories for the songs library: Collections (eg Power Pop from the 80s, 80s Hair Metal, Love Songs, Classic Blues Rock, etc.) and Famous Riffs.
4. Learn Styles of Guitar
And finally, last but not least, the module "Learn Styles of Guitar". Here we have a lot of musical styles, from blues, country or jazz to classical, rock or metal music, which include both new, independent courses and courses that are part of other modules, such as Artist Studies.
Check GuitarTricks for Discounts and Promotions
Guitar Tricks for Beginners
Guitar Tricks is primarily recognized for the Core Learning System, a guitar learning structure designed specifically for beginners. It consists of two large parts, Guitar Fundamentals 1 and 2, and is taught by Lisa McCormick, a guitar teacher with a pleasant presence, very attentive to detail who has a friendly and elegant style of teaching.
If you are an absolute beginner, then this is the perfect place to start the great adventure of learning the guitar.
In the first chapter, called "Get to Know Your Guitar", you will be able to learn the basics about the guitar, such as: how to hold the guitar, the names of the strings or how to tune the guitar. Then in chapter two "Let's Learn to Play" you will learn how to use both hands, how to use a pick and the first guitar chords, with the help of which you can start playing some simple songs, exemplified in chapter 3.
Then things tend to speed up a bit as you evolve. In chapters 4 and 5 you will learn more open guitar chords that form the basis of rhythm guitar playing, as well as some useful strategies for changing chords faster.
After passing this level, you will be able to play some well-known songs on guitar, such as Let it Be (Beatles), Over my Head (Fleetwood Mac) or Kiss from A Rose (Seal).
Then there are some lessons in which you will learn what a key signature is and how it is used to group chords into musical patterns, then Guitar Fundamentals 1 will end with a chapter that will prepare you for the second part of Core Learning System: an intro to Timing and Rhythm.
Guitar Fundamentals Level 2 contains, as expected, more complex lessons. Here you will learn to play power chords, then how to play the major scale in several keys, as well as "Magic L", an effective way to understand chord progressions and which will make it easier to understand music and playing songs.
With the skills you have learned so far, you are ready to play more songs, like: (I Can't Get No) Satisfaction (Rolling Stones), El Paso (Marty Robbins), Sweet Home Alabama (Lynyrd Skynyrd), Imagine (John Lennon) or Runaway Train (Soul Asylum).
Next, you will learn barre chords and why they are such an important step forward, then some notions of music theory and how to play the minor scale in several keys, and the last course for beginners will teach you the basics of reading music.
You can go through Guitar Fundamentals Level 1 Course in 5-6 weeks, if you repeat at least an hour a day, then comes Level 2, which even if it is already more complex, you can finish it in about the same interval, because you already arrive at a level where you feel the music differently and it becomes a pleasure to practice playing the guitar. (Kevin Williams - the beginner)
Guitar Tricks for Intermediate and Advanced Players
After completing the two Guitar Fundamentals courses, the Guitar Tricks Core Learning System continues with what would be called the part for intermediate or advanced players. It consists of four independent branches, each focusing on a musical style:
Blues Style (level 1 and 2);
Country Style (level 1 and 2);
Rock Style (level 1 and 2);
Acoustic Style (level 1 and 2).
1. Blues Style
The Guitar Tricks blues class is taught by two other instructors, Anders Mouridsen and Andy Gurley. Blues Level 1 deals with learning music theory and basic blues techniques: you will learn the 12 bar blues, then how to play 12 bar blues using power chords, minor keys signatures. The course continues with learning new strumming patterns, specific to the blues, and basics of blues style lead playing. In the final chapter you will learn about the basic gear and tones used in blues, amps and effects used to get a killer blues tone!
Blues Level 2 contains more advanced lessons, here you'll learn how to build your own blues licks by using the pentatonic scale and a few basic techniques like hammer-ons, pull-offs, bending and other creative techniques used to play blues.
You can't learn blues without studying the Three Kings of Blues: Albert King, B. B. King and Freddie King, so Guitar Tricks dedicates an entire chapter to those blues legends.
The course continues at Guitar Tricks with more advanced techniques and styles and ends with a chapter in which regional blues styles are explained: Delta Blues, Chicago Blues, Texas Blues, New Orleans Blues and so on.
2. Country Style
Anders Mouridsen teaches all lessons in Guitar Tricks Country Style, both Level 1 and Level 2.
At the beginning he will show you how to apply the skills acquired in Guitar Fundamentals 1 and 2 to play country style guitar, building an acoustic foundation with a basic vocabulary of chords, strumming and progressions, then adapt and expand these ideas for electric guitar. , where we will go into details such as basic triads, 5 barre chords, arpeggios, licks and melody lines used in country music.
The course is rounded off with a chapter on gear and tone, so as to complete your knowledge on how to play country guitar style.
Finally, Guitar Tricks Country Style Level 2 presents the fine details, covering more advanced techniques, like country shuffle boogie riffs, travis picking, country leads or how to create an outlaw ambience.
3. Rock Style
In the Level 1 Guitar Tricks Rock chapter you will learn the basics of rock style rhythm playing. Rock chords (open, barre and power chords), then rock soloing (common scales used in rock, hammer-ons & pull-offs, bending & vibrato) are presented here. Next we have detailed gear and tones used in the rock style, so you will learn everything about guitars, amps and effects to succeed in bringing an authentic rock touch to the songs you play on the guitar.
The Guitar Tricks Rock Style course is completed at Level 2, in addition to advanced guitar techniques, with various rock styles, so you will learn about southern rock, punk rock and heavy metal and the major differences between them.
4. Acoustic Style
Guitar Tricks presents at Level 1 techniques specific to acoustic guitar: strumming patterns, finger picking, as well as music theory (chords anatomy, bass lines), and at Level 2 you can deepen these techniques and learn some finesse things (strumming with a swing feel, hybrid picking and even how to synchronize and play with other guitar player).
Guitar Tricks Video Interface
An important feature to keep in mind when choosing a guitar lessons site is the interface of the video lessons. And here, Guitar Tricks does not disappoint, having inserted all the elements necessary for a good learning experience.
The quality can be adjustable, all video lessons can be viewed both at low quality (if the internet connection is not great) and at high quality (most lessons can be viewed at full HD resolution, and some of them even at a crystal clear 4K). Thus, you can enjoy the best video quality regardless of whether you use a smartphone, a laptop or a large screen TV.
The video player also includes the A / B Looping option, very useful if you want to watch only a small part of the lesson. When this function is activated, two tabs will appear in the video timeline. Tab "A" is the beginning of the loop, and tab "B" is the end of the loop. Once the timeline covers the entire range from "A" to "B", the video will start again in this range.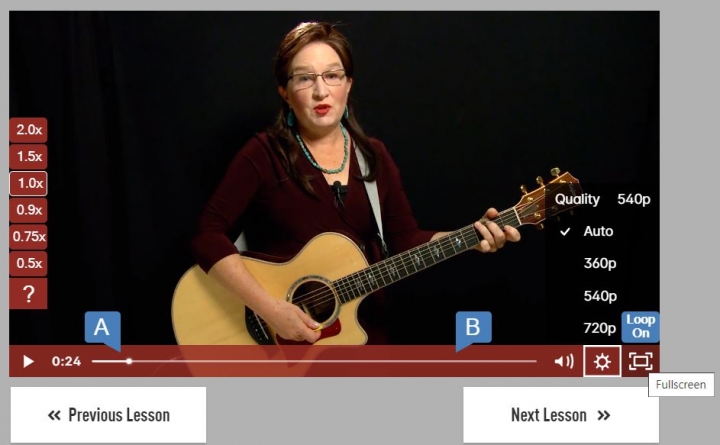 Guitar Tricks also have Playback Speed (from 0.5x to 2.0x) and Full Screen options for an immersive guitar learning experience.
Later edit for Guitar Tricks review website: At the request of several students, Guitar Tricks has updated the video player, so that now you can be able to pause and restart the playback with Space Bar, as on Youtube, for example.
Guitar Tricks Instructors
At the time of writing, Guitar Tricks has the support of 34 guitar instructors, all with significant experience in teaching guitar lessons, and each of them being specialized in one or few musical genres.
All of these instructors are world-class guitarists who, at one point in their careers, played guitar on major stages of the world and accompanied or recorded for great music personalities. This will help you a lot in developing your guitar skills, regardless of the musical style you will approach.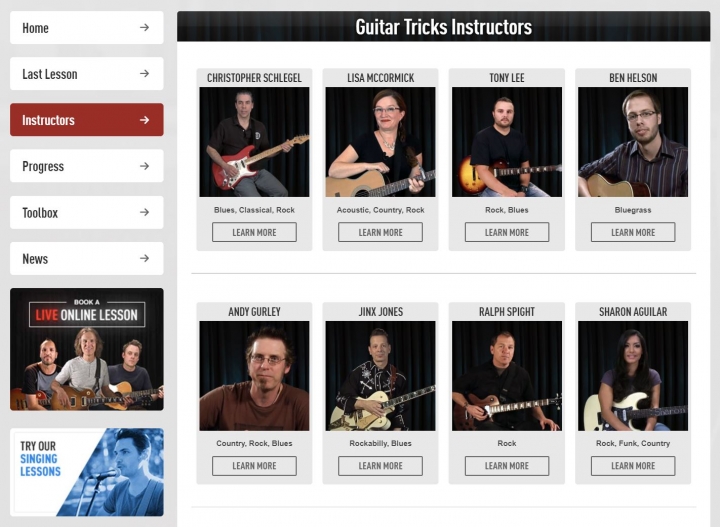 Core Learning System for beginners, the most popular module from Guitar Tricks, is taught by Vermont native Lisa McCormick, one of the site's most appreciated instructors, with an elegant and understandable teaching technique.
Another successful instructor is Anders Mouridsen, who graduated with Honors from MI's Guitar Institute of Technology and has played over time with many well-known musicians such as John Fogerty, Stone Temple Pilots, Pink or Taylor Swift.
If you want to know details about the instructors present on Guitar Tricks, each of them has a dedicated page, in which a short biography is displayed.
Guitar Tricks Genres and Styles
Guitar Tricks has guitar lessons for a wide variety of guitar styles, being one of the most complete guitar lessons sites in this regard. No matter what genre of music you like, here you will find at least a few lessons from each. The best represented are Blues and Jazz, followed closely by other popular genres, such as Country, Classical or Metal.
Although it cannot be included in a certain genre, Acoustic Guitar is detailed in a lot of lessons, where you can learn very useful techniques for any musical style (acoustic fingerpicking for beginners and intermediate players, acoustic strumming). 12-string guitar is also a topic covered here.
The wide range of guitar genres represented on Guitar Tricks gives you the opportunity to explore other musical genres, as well as to discover that many of them, although they seem totally different, are somewhat related. For example, the Blues, Contry and Rock styles have similar chord progressions, and also use similar guitar techniques, which, once learned for one of the styles, can be helpful for the others.
Finally, the high quality of the lessons is due to the fact that the instructors specialize in one or two styles of guitar, so their know-how is at the highest level.
Guitar Tricks Songs Library
Our review website has reached the most awaited part for those who want to learn guitar online: the song lessons. Well, here we are already in the field where Guitar Tricks is a detached leader. Besides having a huge library of song lessons, the largest of all online guitar lessons sites, these are all officially licensed songs. With a collection of over 7,000 songs (some of which are presented in two or more variants - for beginners or advanced guitarists), Guitar Tricks covers all genres and sub-genres of music, being difficult to surpass in the near future by other guitar lessons site.
Some rock bands or famous artists, although present here, do not have a wide exposure (for example Metallica or Joan Jett - with a single song) or have no song tutorials at all (Iron Maiden, Chris Isaak, Chris Rea etc.).
New songs are added weekly, making this collection even bigger over time. As a downside, licensing issues can make it difficult or impossible for GuitarTricks to provide guitar tutorials for some of the most desired songs.
Song lessons are easy to filter by artist, song title, genre, instructor or popularity, you can also sort them by the most recently added ones, thus making it easy to discover new songs. The classification is made according to the difficulty, on a scale from one to five stars, the easiest being accessible to beginners, while those marked with 5 stars can be practiced and learned only by advanced guitar players.
Conclusion
With over 7,000 song lessons, Guitar Tricks is the ideal site for guitarists who do not necessarily want to become experts in various advanced guitar techniques or learn the music theory in detail, but want to learn many songs.
Guitar Tricks Cost
Guitar Tricks Free Account
Guitar Tricks offers a Free Account (not to be confused with the Free Trial Account). This type of account is really free, does not require any credit card and you have no obligation, and is very easy to set up. All you have to do is add a valid email address, agree to the Guitar Tricks Terms of Service and Privacy Policy, then you name and that's it, you're ready to go.
However, this type of account comes with a major limitation: you have access to only 24 free lessons, taught by 12 instructors. You also have access to the public section of the forum and you will receive the Guitar Tricks newsletter (with new Guitar Tricks offers, coupons or lessons), like all the other members.
It is intended for those who want to test how the lessons on Guitar Tricks are and if the style of teaching guitar lessons suits them.
Does Guitar Tricks offer a free trial?
Yes, Guitar Tricks offer a 14-day free trial.
Here are some things you need to know about Guitar Tricks Free Trial:
• a valid credit card is required;
• if not canceled, the trial is automatically converted into a paid membership on the 15th day;
• cancellation can be made at any time, very easily, from the Guitar Tricks account (Account Section), where you can simply need to click a button;
• if you have not canceled and you are charged on the 15th day, Guitar Tricks offers an additional 60 Day Money Back Guarantee, in case you are not satisfied.
If you want to get an overview of the guitar lessons offered by Guitar Tricks, without being charged, the best option is the 14-Day Free Trial.
Strat your free trial with GuitarTricks
How much is Guitar Tricks membership for full access?
Guitar Tricks offers now (August 2022) one single type of membership: Full Access Subscription with $19.95/month. This is the standard price, but from time to time Guitar Tricks offers a discount for the annual membership.
Once you have registered as a full member or have passed the 14 days free trial period, you are satisfied and want to continue, you will have access to the entire content of the Guitar Tricks site. A mention of full membership is that, from time to time, there are promotions that offer a cheaper annual membership, so it would be good to subscribe to our newsletter, which will notify you when these promotions become valid (also you will also be notified of the promotions offered by other online guitar lessons sites).
Another detail you need to know is that this membership is automatically renewed. If you do not want this, you can log in to your Guitar Tricks account and cancel your membership. This will suspend the automatic account renewal, but you will still have access to Guitr Tricks content until the end of the period for which you paid.
Access now the GuitarTricks lessons
Alternatives to Guitar Tricks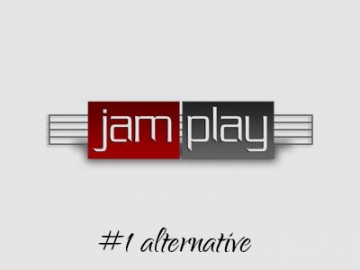 1. Jam Play
The most reliable alternative to Guitar Tricks is Jam Play, which in the top of the
best online guitar lessons
ranks 1st. The two platforms, although occupying the first two places and are approximately similar, do not share the same structure and do not address mainly the same categories of guitar students. While Guitar Tricks, through its Core Learning System, is aimed primarily at beginners, Jam Play, although it has 17 independent courses for beginners, focuses mainly on the development of guitar techniques for intermediate and advanced players.
If you are curious about Jam Play, the #1 online guitar lessons website, you can read our
Jam Play Full Review
.
Enter to the Jam Play 30-day free access or claim the 30% discount now!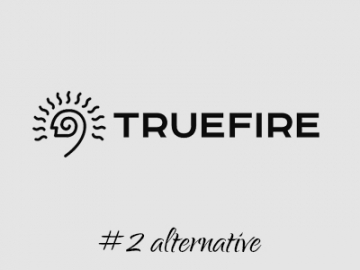 2. True Fire
In the guitar lessons field, True Fire is the oldest and the biggest platform and this gives it the authority to be a viable alternative to the two big ones: Jam Play and Guitar Tricks.
Join TrueFire for free with a 14-day all access trial.