The World's Best Online Guitar Lessons in 2022
We've compiled a list of the best online guitar lessons websites so you can get started without hassle

BY JAMES DELANEY
17 JANUARY 2022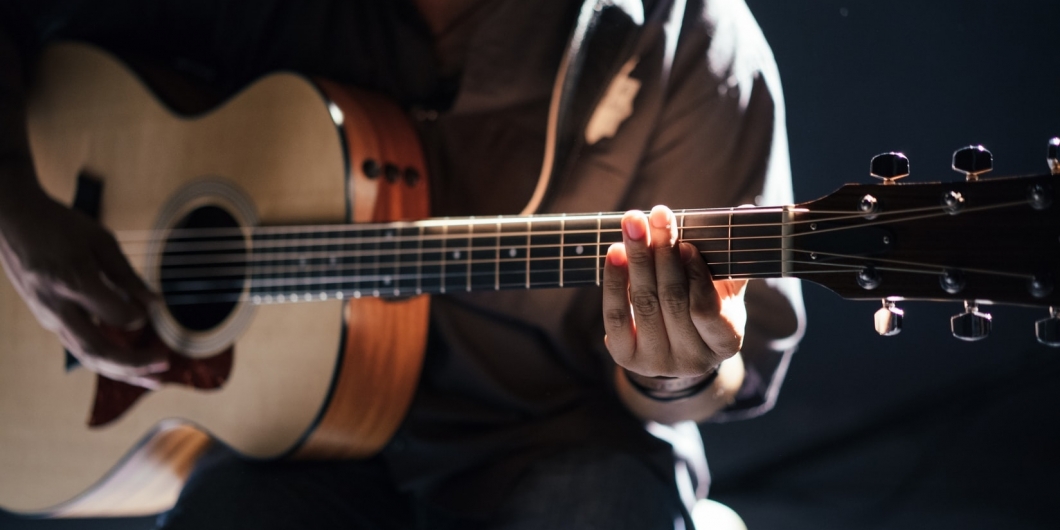 Table of Contents
[Show]
Choosing the best online guitar lessons is not an easy task. That's why we used a mixed approach, which combines the traditional method (testing online courses with guitar in hand) with checking lessons and measuring feedback from a dual points of view. So, in order to cover as much of the details as possible and to give you a complete picture of all the online guitar lesson platforms presented, we hired a couple of guitarists for each of them. Each pair was made up of an absolutely beginner guitarist, who did not play guitar at all, and an intermediate player, who has some basic guitar techniques, knows a few songs of medium complexity, but still needs learning to become a good guitarist.
Each guitar lessons website was tested from a dual perspective: by a beginner (he never got his hands on a guitar until our test) and by an intermediate guitar player.
When reviewing the online guitar courses, we considered a whole range of different factors, but mainly we took into account the teaching methods, the structure of the courses, the value of the content, and last but not least, the price. We also looked at the trial periods for each course, as it allows you to reconsider if you are not happy with the guitar lessons.
The Top 6 guitar lessons websites left in the race after testing 14 online courses are all amazing online guitar lessons, given by some of the best guitar teachers, who will bring out the best in you and get you on the right path to learn to play the guitar, but we have also highlighted the main differences between them, so at the end of this article, you will have all the information you need to be able to choose the online guitar course that suits you best.
In the table below, you can find our top-rated online guitar lessons, followed by a quick overview, each of them having a link to its own page with a full, in-depth review.
#
Logo
Platform
Description
Price
Check Offer
1
JamPlay

ideal for a beginner and intermediate player
over 140 teachers and a catalog of 7,000+ lessons and songs, grouped in over 600 courses
have several beginner courses, taught by teachers with various teaching styles
all videos are professionally recorded, with speed settings, AB looping and are recorded from several angles
new lessons and courses are launched every month, as well as song tutorials

$17.95/month (Monthly)

$12/month (Year Standard)

$22.50/month (Year Pro)

Go to JamPlay
2
Guitar Tricks

the oldest online guitar-learning platform
for beginners they provide a dedicated module: Core Learning System
offer a vast collection of lessons (over 11,800), logically classified in 590+ courses
while they are not look as polished as other websites, are very easy to use
largest songs library (7,000+ songs), covering many artists

$19.95/month (Monthly)

Go to Guitar Tricks
3
True Fire

more than 200 instructors, with remarkable backgrounds and long-standing stage experience
private lessons are available for those who want to deepen a particular style
over 50,000 video guitar lessons for all skill levels, divided into over 900 courses
many other learning tools available such as metronome, tuner, and charts
multi-angle video lessons are presented in Full HD with high quality audio

$29 (monthly)
$249 (annual)

Visit TrueFire
4
Artist Works

1,600+ lesson library that covers a high range of skills, from basic fundamentals to advanced techniques
you can choose the favourite course and interact directly with your guitar teacher
flexible pricing, offering various plans to fit your music style and disponibility
direct and specific approach to online guitar lessons

$105 (3 month Plan), $179 (6 months Plan), $279 (12 months Plan)

Visit ArtistWorks
5
Justin Guitar

a one-man project, Justin Sandercoe, who presents all his lessons
a well thought out and organized system, which is addressed especially to beginners
basic courses are free, and focus on blues and jazz
premium courses and other products (books & e-books, tablatures, jam tracks) are sold separately

Free

Visit JustinGuitar
6
Jamorama

a comprehensive 10 part guitar system, taught by Mark McKenzie, the owner and sole instructor at Jamorama
designed especially for beginners, with a clear & easy learning system
275 step-by-step video lessons, with integrated jam tracks and progress tracking system
HD video lesson library

$97 (lifetime)

Visit Jamorama
JamPlay: Editor's Choice for Best Online Guitar Website in 2022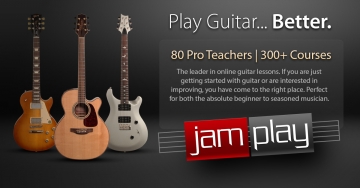 Check JamPlay Deals
Pros
Huge number of comprehensive lessons, with impressively varied content
The large number of instructors, some of them brilliant artists, each of them having their own playing and teaching style, allow you to choose the one that suits you better
World-class instructors, Master Classes and live sessions with famous guitarists
Covers the entire range of guitar styles: Blues, Rock, Jazz, Fingerstyle, Country, Metal, Classical, Bluegrass, R&B, etc.
Full of features and tools: interactive tabs, chord library, JamTracks, variable speed and video loop, bookmars, note-taking feature, progress tracking, and more
Cons
Hard to criticize anything here
Lessons: 7,400+ • Instructors: 146 • Founded: 2006 • Price: $19.95 / Month (Monthly Plan), $13.33 / Month (Annual Plan), $24.99 / Month (Annual Plan - Pro Version) • Trial: 30-day free access • Courses: 554 • Songs: 360+ • Mobile Apps: IOS & Android
JamPlay is, among the best online guitar lessons platforms, the winner of this contest and our top recommendation
Our experience with JamPlay was a success, as it managed to improve the guitar playing style of our team, regardless of the current skill level. Gavin Young, who had never taken a guitar before and accessed the video lessons for beginners, easily found the guitar instructors that suited him best. As for Lucas Mills, as an intermediate guitarist, he was able to quickly find the lessons and exercises that helped him improve his less developed guitar techniques.
So, after months of research, both of them came to a clear conclusion: JamPlay is the best online guitar lesson program available on the internet. Their guitar lessons are not only useful, but they actually make you learn better and faster, developing helpful guitar playing habits for both hands and prevent bad ones.
JamPlay is a high-quality platform that offers an impressive collection of courses, lessons, and tutorials for all categories of guitar enthusiasts.
With JamPlay you will never run out of work material. In addition to the staggering amount of content, they continue to refresh their collection, adding new online guitar lessons every week (you can subscribe to any favorite genre or skill to be emailed when new guitar lessons are added).
For the ones who want to become familiar with the learning process at JamPlay, Jamplay have an Youtube Channel where you are able to see some of their lessons, updated every week (JamPlay post a video lesson per week). This YouTube Channel, the free trial and the 30 day money back guarantee offered by JamPlay offers you a plenty of time (and you need that, especially if you are a beginner) to see if their online guitar lessons suits you and then to take an informed decision about starting to learn guitar.
Because I never played guitar, I started classes for beginners. In a short time I managed to develop the basic skills that made me move forward. (Gavin Young)
JamPlay is also absolutely suitable for a beginner who wants to learn a variety of different styles of playing. There's great flexibility, as you can create your own learning path. For beginners, there are no less than 17 instructors (both acoustic guitar and electric guitar), each guitar instructor having its teaching style, so you can choose the one that suits you better.
Apart from their wide variety of guitar lessons, the learning content found at JamPlay is also exceptional. The way they record all the lessons with several video cameras from various angles helps you to see exactly the best position to hold the guitar, the guitar pick, and how to strum the strings.
There are big names such as Lita Ford, Robb Flynn (Machine Head), Steve Stevens (Billy Idol), and many more, who organize unique masterclasses based on their vast experience over the years.
In addition to the high quality and very well organized learning content, the big names available in Jam Play are the ones that stand out from the other competitors in our ranking. Not often do you have the opportunity to learn from guitar legends that show you in detail everything you need to know about learning to play the guitar, including personal tips & tricks. Learning from some of the greatest guitarists of the world is an awesome and rare opportunity.
For me, as an intermediate player, besides the courses that developed technical skills or that presented musical theory and advanced techniques related to them, the Masterclasses organized by famous artists were also very interesting and useful. (Lucas Mills)
Conclusion
Few guitar course websites can compete with JamPlay in terms of volume and quality of resources, lessons, and tutorials provided to students. If you are willing to take the time to develop and improve your guitar playing skills, JamPlay is definitely the best choice.
If you want to know more about JamPlay, we have prepared for you a full JamPlay Review, in which we have explained, step by step, everything you need to know about this online guitar lessons platform.
Guitar Tricks: Runner-Up - Best choice for beginners and intermediate players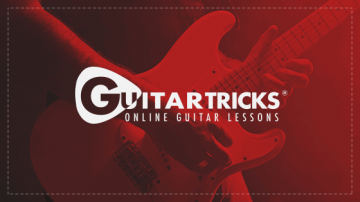 Visit GuitarTricks
Pros
Clear and easy-to-follow lessons
The Core Learning System provide the fastest way for a beginner to learn playing guitar
Huge library of songs in every genre
Numerous features helps you to handle the learning process: scale finder, metronome, fretboard trainer, chord charts, bookmars, progress indicators, history of watched lessons etc.
Cons
Doesn't cover less mainstream genres like flamenco, gospel, or reggae
Tough to measure difficulty of lessons outside of Core System
Lessons: 11,800+ • Instructors: 36 • Founded: 1998 • Price: $19.95 / month • Trial: 14-day free trial • Courses: 591 • Songs: 5,000+ • Mobile Apps: IOS & Android
Guitar Tricks has been in this industry for over 20 years, becoming one of the most popular guitar learning platforms along with JamPlay. The two sites form a top-notch rivalry from which guitar enthusiasts have only to win.
For those who are interested in Guitar Tricks and would like to know more details about it, you can read our Full Review of Guitar Tricks.
The refence point of Guitar Tricks is the well-developed system for beginners called Core Learning System.
Guitar Tricks have a different approach in the way they supply their beginner lessons, having the step-by-step Core Learning System that leads through the entire process of learning basic guitar. It's a linear learning path, easy to follow by a novice compared to other online guitar training offers, and guides you through two basic courses for the learners completely new to guitar, continued with two more courses for intermediate players that cover four styles of playing guitar: blues, country, rock, and acoustic.
The Guitar Tricks instructors, even if they are not big names in the music scene, are experimented instructors with an extended know-how and with well-defined guitar teaching methods over many years of experience.
As an absolute beginner, at the first lessons I encountered some difficulties, but the instruction was clear and to the point, so I significantly improved my guitar skills in just a few weeks. (Kevin Williams)
The lessons for advanced are not very well represented (this being the biggest minus compared to Jam Play), but the courses for intermediaries are a welcome extension, and fully cover the aspects necessary to deepen the guitar techniques learned so far (guitar styles - acoustic, classical, country, rock, metal, blues, etc. or techniques such as Alternate Picking, Bending, Hammer-Ons and Pull-Offs, HarmStrumming, Palm Muting and so on).
The part where Guitar Tricks excels and surpasses Jam Play is the one represented by the collection with song tutorials. All guitar lessons, thanks to the vast experience of the instructors, are clear, comprehensible and easy to follow, helping you to be able to play your favorite songs.
The huge Guitar Tricks songs library includes over 6,900 pieces (the largest collection from all guitar learning platforms) that you can sort by artist, genre, or difficulty.
For those who feel good in an environment with a large community, Guitar Tricks is also the ideal platform, with a forum highly appreciated and used by many of its members. The Guitar Tricks community is very large, and anyone can ask questions that get a lot of informed answers. The topics are very varied, ranging from Guitar Basics, Technique and Style, Music Theory, to Recording, Songwriting, or Gear Discussion.
Conclusion
Whether you've never played guitar (and you're not sure where to start) or you've tried to play guitar in the past (but you're not happy with your level and guitar playing skills), Guitar Tricks is designed to offer you a solid foundation, developing your skills in the best way possible and learning how to play the songs of your favorite artists.
TrueFire: The oldest and biggest platform with online guitar courses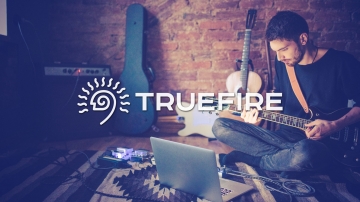 Visit TrueFire
Pros
50,000+ interactive video guitar lessons covering all styles, techniques and levels
High qualified instructors, from GRAMMY award winners, to top session players, including very famous musicians like Steve Vai, Andy Timmons or Robben Ford
Through the module Online Classroom, TrueFire give the opportunity to get personalized, 1-to-1 online guitar lesson with your chosen instructor
All courses are available as instant downloads
Cons
A little overwhelming because of the large volume of lessons
No clear-cut path for beginners
Focuses more on developing guitar techniques at the expense of song lessons
No clear-cut path for beginners
Lessons: 50,000+ • Instructors: 180 + • Founded: 1999 • Price: $29 (monthly), $249 (annual) • Trial: 14 day free trial • Courses: 1,992 • Songs: 440 + • Mobile Apps: IOS & Android
You can't make a ranking of the best online guitar lessons without TrueFire. With a huge library of over 45,000 lessons and very high level instructors, some Grammy Award winners, True Fire is a very strong competitor, fighting on a par with the top two, Jam Play and Guitar Tricks.
The intermediate and advanced guitarists have enough study material and a great structured learning system to significantly improve their guitar skills.
As we said before, the big plus of True Fire is the enormous online library of guitar lessons, tabs and songs tutorials - over 45,000, and the number is growing. But having such a massive catalog can also be a minus, because it is very easy to be overwhelmed by the plenty of information and give up. That's why True Fire introduced Learning Paths, an extremely efficient way of organizing the various styles taught, such as blues, jazz, rock, acoustic, country, etc.
At first I was overwhelmed by the situation, due to the endless range of lessons, but soon I got used to the structure of the True Fire platform which, especially through the Learning Paths, was a perfect guide for me, as intermediate player. (Alan Sanders)
The courses are presented by a selection of well-trained instructors who have a well-developed guitar teaching system. Also among the teachers there are some very famous touring pros like Steve Vai, Andy Timmons or Robben Ford (named one of the "100 Greatest Guitarists of the 20th Century"), that's a very big plus if we take into account that they share with guitar students their huge experience gained over the years on the stage.
The structure of the True Fire lesson is divided as follows:
Courses (each containing between 15 and 60 lessons)
Learning Paths (each is a module of individual lessons from different courses, grouped by music styles: blues, jazz, rock, country etc.)
Private lessons (which are not live, you have to upload a video with you playing the guitar and receive a video feedback from the instructor)
In the Jam (a nice and useful way to play along with various artists - paid separately, not included in the membership)
True Fire excels in teaching to play the guitar with slow motion video and looping functions, so that we can select a difficult passage and repeat it at our own pace until we consider that we have learned it perfectly. It's a simple trick, but it takes learning guitar to another level.
At True Fire there is the possibility that each course can be purchased individually, so you can choose exactly your favorite guitar lessons. But if the True Fire teaching style suits you and you plan to take more guitar lessons, definitely go for the "All Access" plan, which gives you full access to all the lessons and resources on the site.
Conclusion
TrueFire guitar lesson library is impressive, it is a platform that provides you a well-developed systems that, if you are determined enough, can lead you to a guitar-playing level not reached so far, and if you're an intermediate or advanced guitar player and have the wish to develop and expand your guitar skills to a higher level, TrueFire is the perfect tool for you.
ArtisWorks: Online music lessons from master musicians

Visit ArtisWorks
Pros
The teaching level of each guitar instructor is very high
Each course covers from basic fundamentals to advanced techniques through an extensive library of lessons
The feedback from your instructor can offer a strong motivation to stick with the program
Cons
Very expensive (you must pay for each course)
The songs library is limited, there is no comparation with other platforms from our rankings
No mobile app
Lessons: 1,600 + • Instructors: 10 (for guitar) • Founded: 2008 • Price: $105 (3 months), $179 (6 months), $279 (12 months) for each course • Trial: No • Courses: 57 • Songs: N/A • Mobile Apps: No
Artist Works is a newer and fresher platform to learn how to play guitar online, established in 2008. They have a different approach than the other sites in our rankings.
Instead of joining a platform with hundreds of courses and guitar instructors, here you can choose your favorite style or a specific instructor.
If you're interested in rock guitar, then you can choose Paul Gilbert's class. If your favorite genre is jazz, then it's very simple: you will sign up with Dave Stryker's program (or Martin Taylor, who is responsible with "Fingerstyle Jazz Guitar" module). For blues you have nothing to do than choose Keith Wyatt. You have also other styles to choose from, like bluegrass, acoustic guitar, classical or electric country guitar. Each class goes through all the stages, from the fundamentals, passing through the intermediate and ending with advanced guitar lessons.
The teacher provide constant feedback to his student via the Video Exchange module.
This feature allows you, after you have started your guitar lessons, to send a video of yourself playing the guitar and then receive personal feedback from your instructor. Thus, any wrongly learned guitar technique will be corrected immediately. This used to be a unique feature, but now all the platforms ranked before Artist Works in our ranking have it in their portfolio.
Conclusion
If you don't want to bother with choosing your own guitar learning path from hundreds of lessons and you want to have a famous guitar teacher with great experience and get permanent feedback from him during your evolution as a guitarist, then Artist Works is the right choice for you.
Justin Guitar: The most popular free Youtube guitar course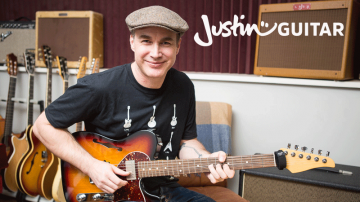 Pros
The content is free and is also available on Youtube
Justin Sandercoe is a pleasant and easy to follow instructor
A large library of song tutorials
Cons
The content for intermediates or advanced is quite underdeveloped
Being featured on Youtube, lessons become annoying when video commercials cover the instructor's fingers on the guitar
Apart from blues, jazz and pop rock, other genres (metal, classical, etc.) are not represented at all
Lessons: 1,200 + • Instructors: 1 • Founded: 2003 • Price: Free (mostly) • Trial: No • Courses: 18 • Songs: 630 + • Mobile Apps: IOS & Android
Justin Guitar is well organized for beginners, presenting various basic techniques (basic chords and rhythms, fingerstyle, scales, blues patters, etc.).
Justin Guitar is a very good free guitar course, at a slightly higher level than the competition in this niche (see our article with the best free guitar lessons on Youtube). The simple and well-organized structure, the pleasant and quite well-detailed presentation of Justin Sandercoe, as well as the library of over 600 song tutorials are the reasons why Justin Guitar is part of our ranking, although it is not at the same level as the big three online guitar learning platforms (Jam Play, Guitar Tricks and True Fire).
Justin Guitar is divided into two major modules: "by level" (divided into three chapters: a very well represented chapter for beginners, one basic for intermediates and one in a incipient state, for advanced players) and one so-called "by skills" (scales & modes, chords, theory, amps & effects, arpeggios, ear training, etc.).
After the period of adaptation and learning of basic techniques, the limitations became obvious when I tried to deepen a greater variety of techniques or styles. (Kevin Williams)
Being free and not having a paid membership system, it seems to be the best place for most people to start learning the guitar. But in the long run, this can be a disadvantage. Why? First of all, the quality of the lessons and videos made on the membership-based sites listed above in our ranking are much better (produced in professional conditions, in a music studio, from several angles, in HD and 4K quality) and are presented by a lot of very high-quality and experienced instructors, as well as by famous artists.
Updates and new materials come quite rarely, and musical styles are limited due to a single teacher.
Also, the title of "free lessons" can be misleading. If you're not careful enough, you can spend on Justin Guitar more than a full-year membership of any site listed above in the rankings. How so? Well, there are also Premium courses (between $ 9 and $ 99, but, a good thing, they are lifetime), and all free courses lead to the purchase of e-books (tabs are $ 49.99 USD per year or $ 7.99 USD per month, each e- book with Jam Tracks is $ 9.99, and each Songsbook is about $ 25). Quite overpriced, in our opinion.
Conclusion
If you are a beginner, do not want to spend a dime and are not very worried about quality, variety of styles, instructors and teaching techniques, as well as up-to-date content, then Justin Guitar is the way to go. But if you are interested in high quality lessons and you are willing to pay for it, then the other options are much more useful.
Jamorama: An easy way to learn basic guitar techniques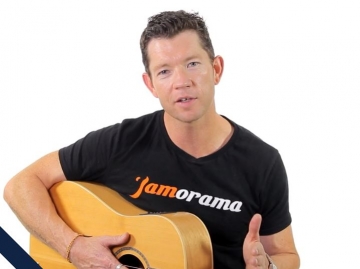 Visit Jamorama
Pros
Unique lifetime membership
Extended 120-day money-back guarantee
Clear and easy-to-follow pathway for an absolute beginner to develop his guitar skills
Cons
A single guitar teacher
Not very useful for intermediate and advanced guitarists
Limited content, as the library has only 275 video lessons
Lessons: 275 • Instructors: 1 • Founded: 2014 • Price: $97 • Trial: No • Courses: 10 • Songs: 25 • Mobile Apps: IOS & Android
Jamorama, a site founded in 2014, is the work of the one-man show Mark McKenzie, Jamorama's pleasant Head Guitar Instructor, who runs all the guitar classes of this platform.
You don't know anything about the guitar? You never got your hands on a guitar? Then Jamorama is for you. The courses are specially created for those who, in principle, have never had to deal with a guitar. Although it cannot compare to the giants Jam Play and Guitar Tricks, which are a tough competition even for the other competitors, Jamorama is a breeding environment for a beginner guitarist.
Jamorama learning path is straight and simple, starting with a five-week introductory course.
The courses cover basic knowledge, such as how to hold guitars, musical theory, learning how to play recognizable riffs, strumming patterns and basic chords. Then, as the student evolves, more advanced techniques are presented: basic lead guitar, the 12 Bar Blues, fingerstyle techniques and more advanced guitar theory, like chord theory, scale theory and rhythm theory.
The advantage of this platform, besides the clear learning path for a beginner player, is the extended 60-day guarantee, so you have two full months to try the lessons risk free.
Conclusion
Bottom line, if you are a complete beginner or if you're at an early stage in guitar playing, looking to develop your guitar skills at a relaxed pace, in a fun and socially interactive environment, then Jamorama could be what you're looking for. Noting that in order to move to a higher level, the other platforms are the next step.
Final Conclusions
After all the presentations made to each online guitar learning platform, it's time to draw the line and present you the final conclusions. And the question "Why should I choose..." is the one to which we will give the answers.
Why should I choose Jam Play?
Because Jam Play it's the best option for you: it's the most balanced platform, which offers both beginner and advanced players a lot of specific and perfectly organized courses. Also many courses are taught by famous musicians who share their invaluable stage experience.
Claim the Jam Play 100% Free access for 30 days
Why should I choose Guitar Tricks?
Because Guitar Tricks it's specially created for beginners, who benefit from a powerful learning system, but intermediate players can also develop their techniques in several musical genres, such as blues, jazz or rock. It also has the largest library of song lessons.
Test here the Guitar Tricks 14 day Free Trial
Why should I choose True Fire?
Because the oldest and largest online guitar lessons platform is very suitable for the development of guitar techniques for intermediate and advanced players, having 50,000+ guitar lessons to offer.
Get a 14-day all access Free Trial at TrueFire
Why should I choose Artist Works?
Because Artist Works it's a suitable system for those who want to perfect themselves in a certain musical style, with the help and feedback of acclaimed musicians.
Browse all courses at Artist Works
Why should I choose Justin Guitar?
Because Justin Guitar it's a place for beginners who wants to learn to play the guitar at a slower pace, not being conditioned by a membership period.
Why should I choose Jamorama?
You can choose Jamorama because if you want to learn playing guitar from scratch with the help of a pretty well-developed system, with a lifetime membership.
Try Jamorama full access membership risk free (60 day money-back)